Google Photos Pro Search Add-On v2
Search Add-On for Google Photos Pro v4
Simple to Add in-page search to Google Photos Pro
Add a simple shortcode to your results page and you can search the title and description content loaded from Google Photos API in your page.
A search field will be created on the page where users can type in the criteria they are searching for. All images that do not match this entered criteria will be faded out, therefore highlighting matched results.
1. Install the Plugin
Embedding Google Photos in WordPress has never been so simple and fast.
Follow these 3 simple steps to embed in-page search functionality.
Log into your WordPress admin panel and visit Plugins > Add New
Click Upload Plugin
Click Choose file and select cws_sap_gpp.zip then click Install Now
Click Activate
2. Add shortcode to the results page
After installing the plugin you'll need to add the shortcode to your image results page. [cws_sap_search].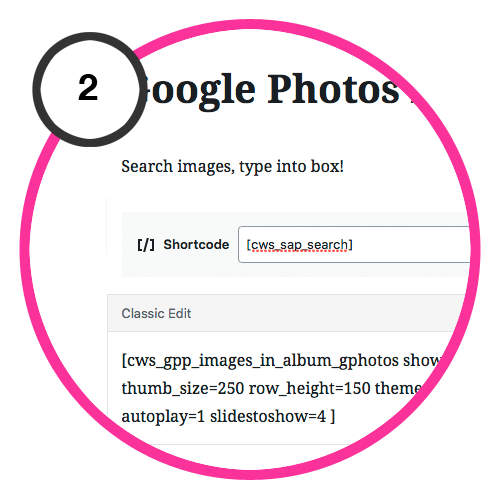 3. Type in your search text
Visiters to your site can now search for images title and description content via the search box. Images not matching typed in criteria will fade out highlighting the matched images.
Add in-page search to Google Photo Pro
Frequently Asked Questions
Simple & Efficient
I was looking for this plugin for ages ! Setting simple, everything is working properly even link to my private google+ photo albums. Support is great, I had couple of questions and everything was solve in some hours Minutes are enough to install and test it, no need to be a computer Engineer to make it run !
---
2017-05-03T12:07:51+00:00
https://www.cheshirewebsolutions.com/testimonials/simple-efficient/
If I buy this plugin will I get support ?
12 months of support comes as standard.
Will it work with my theme?
For obvious reasons we can't test every theme in the world, but Google Photos plugin for WordPress is running on thousands of websites, so we are 99% sure it will be compatible with your theme.